Yoga Teacher Training in the Himalayas: Kalimpong (Darjeeling), India
Starlim India collaborates with Anandavan Yog Peeth to offer the worldwide community an opportunity to experience the salient energy that South Asian Himalayas have been transmitting from ages. Practicing Yoga and meditation in these peaceful environ would be a dream to everyone. Indian Himalayas have witnessed thousands of people find answers to their life's quest and transform from simple spiritual practitioner to yogi. Tibetan monks have greatly inhibited eastern Indian Himalayas from centuries. These beautiful mountains have been a source of inspiration and answers to all doubts and dilemma not only to them but to all spiritual tourists who come searching the meaning of life. Our associate school in Kalimpong, Himalaya is a reflection of this human pursuit. Here, we endeavor to expand our understanding and share this with you, at the same time growing with your experience and positive energy.
Seeking balance in life, today, a human has reached a point where Yoga stands as the solution to many mental, physical and emotional sufferings. Yogis around the world have shared with us how this spiritual practice has shaped their life into something more peaceful and adventurous. Learning that, this life science has been a blessing to the lives of people who had once come to our school taking a month or two of break from their daily activities, we have decided that we will continue offering yoga teaching because this is our responsibility to offer the world a greater place where people can experience love, peace, joy and a transformation that he or she wants. Our teaching is deeply rooted in the traditional original yogic practice but also equally relevant to the modern scientific world.
200 Hour Yoga Teacher Training in Kalimpong (2019 ~ 2020)
Our 200 Hour Hatha yoga teacher training is certified by Yoga Alliance USA and aims to transmit yogic knowledge in its original form. We incorporate in executing Yogic practice that ancient yoga masters in India taught to their disciples. This teaching has been transcended from generations to generations to assist humankind in living a better life. You will learn basic Sankhya Yoga philosophy, one of the major aspects of yoga learning without which your knowledge of yoga remains incomplete. Alongside, understanding of yoga anatomy and asana alignment will be a useful lesson you take home on completion of the course. You will be studying in a group of 8 to 12 people and the instructors will be there to assist you in everything you need. Our course meets both practical and theoretical requirement of Yoga Alliance USA.






"200 Hour Yoga Alliance Approved Teacher Training Course in India (2019), will be held in March-April, April-May and Sep 2019 (Exact dates will be announced later). For more information, kindly mail & contact us at support@starlim.org."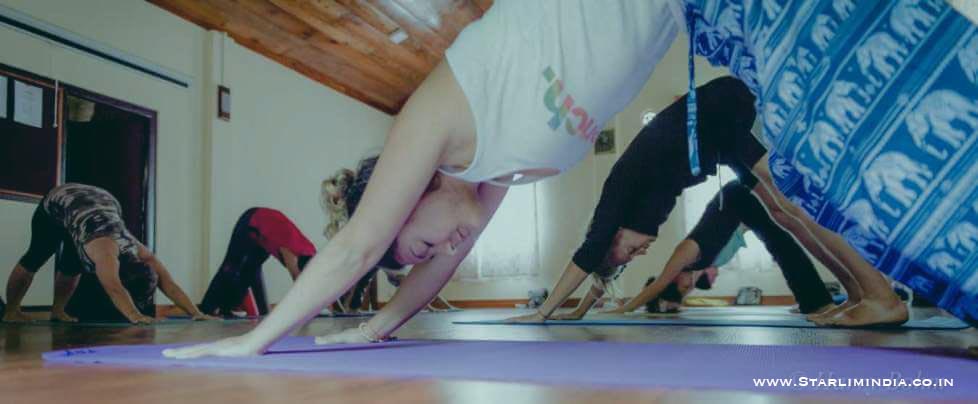 200 Hour TTC Daily Schedule: Anandavan Yog Peeth
05:30 am - Wake Up
06:00 am - Herbal Tea
06:15 am - Shatkarma/Yogic cleansing
06:30 am - Pranayama and Chanting
07:30 am - Yoga Asana
09:00 am - Breakfast
10:00 am - Yoga Philosophy | Ethics
11:15 am - Yoga Anatomy | Teaching Methods | Sequencing
12:30 pm - Lunch
01:30 pm - Self-study
04:30 pm - Hatha/Ashtanga Yoga Asana
06:00 pm - Pranayama | Meditation
07:15 pm - Dinner
10:00 pm - Lights Out

Whether you need to teach Yoga or you wish to develop your training, this 200 Hour teacher training course at Anandavan Yog Peeth will give you a strong establishment in traditional Indian Hatha Yoga. The course gives a comprehension of Yoga in an organized way, with the correct balance of training and theory. We give full and equal attention to our Yoga Students and utmost the class size to 10-15 individuals.