Vinyasa Yoga Teacher Training in Rishikesh – Starlim India
Starlim makes it easy for you to do your Vinyasa yoga teacher training in India through Shiva Tattva Yoga School. Vinyasa yoga is sometimes also referred to as flow yoga as it focuses on fast paced series of asana or postures. There is no holding of individual poses but rather a movement from one asana to the next. However, Vinyasa yoga teacher training is not just about asana and breathing but it is a learning that impacts your body as well as your spiritual and emotional shelf.
Flow Vinyasa Yoga: Shiva Tattva Yoga School, Rishikesh
Vinyasa yoga originates from hatha yoga and incorporates some aspects of Ashtanga yoga where proper sequencing of asana has to be mastered. Vinyasa Yoga is considered to be a powerful form of yoga which allows you to energise yourself as the postures flow with the breath. Some beginner learners could find Vinyasa yoga challenging but if you have the inclination to learn Vinyasa yoga and teach the style to other leaners then Shiva Tattva Yoga School can help you understand the intricacies of how to inhale and exhale as you move from asana to asana.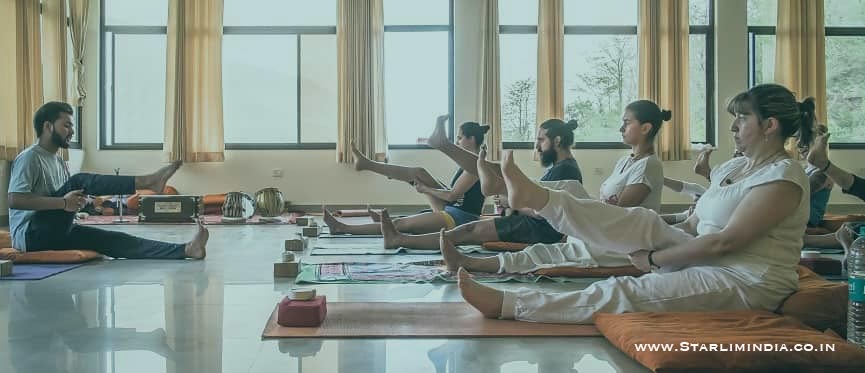 Vinyasa Yoga teacher training benefits
Vinyasa yoga teacher training in India has become popular as Vinyasa style of yoga offers a number of benefits. As you practice the standing asana, backbends, inversions and arm balances you stretch and strengthen all the muscle groups in the body which improves flexibility. We teach you how to synchronise your breath with your body movements which allows fresh oxygen to flow into the muscles which reduces stress on the joints. Vinyasa yoga teacher training in India at Rishikesh is even more beneficial as you will be able to breathe in the clean Himalayan mountain air. The Ujjayi method of breathing and the asana used in Vinyasa yoga is taught by experts at Shiva Tattva Yoga School.
Vinyasa Yoga teacher Training Requirements
Vinyasa Yoga Teacher Training in India is based on the recommended Yoga Alliance standards for Vinyasa yoga. The asana sequence is not rigid like that in Ashtanga Yoga so yoga teacher aspirants have the flexibility to learn numerous Vinyasa yoga asana and mix and match them during the practice. Since Vinyasa yoga incorporates other styles of yoga so even if you know any other styles you can easily undertake Vinyasa yoga teacher training in India. Even if you are a beginner you will like the challenge of the Vinyasa yoga as you master the asana sequence with breath control. This style will enable you to learn the skills you need to build a strong foundation for a more advanced yoga practice.
| Dates | Status | Price |
| --- | --- | --- |
| ➢ 05 Mar 2019 to 02 Apr 2019 | Booking Open | $ 1600 USD |
| ➢ 05 Apr 2019 to 02 May 2019 | Booking Open | $ 1600 USD |
| ➢ 05 May 2019 to 01 Jun 2019 | Booking Open | $ 1600 USD |
| ➢ 05 Jun 2019 to 02 Jul 2019 | Booking Open | $ 1600 USD |
Reservation:To reserve your seat, you need to pay 20 % of fees as non-refundable deposit.
Remaining fee needs to be paid upon arrival before starting of the course.
Apply Now
Daily Schedule:

Vinyasa Yoga Teacher Training - Rishikesh
06:00 am to 07:00 am (Pranayama, Meditation and Yoga Nidra)
07:00 am to 08:30 am (Multi-style yoga practice (Vinyasa, Hatha, Iyengar, Sivananda Yoga))
08:30 am to 09:00 am (Breakfast)
09:00 am to 10:00 am (Free Time)
10:00 am to 11:30 pm (Anatomy Class)
11:30 pm to 12:30 pm (Free time or Karma yoga)
12:00 pm to 01:30 pm (Lunchtime)
02:00 pm to 03:00 pm (Lecture (Yoga Principles / Philosophy / Yoga Sutra))
03:00 pm to 04:00 pm (Mantra Chanting, Music and Kirtan class)
05:00 pm to 06:30 pm (Vinyasa yoga class)
06:30 pm to 07:30 pm (Rest time / Free time)
07:30 pm to 08:30 pm (Dinner time)
08:30 pm to 10:00 pm (Self Study)
10:00 pm (Lights off)
*According to the situation, class schedule may be changed.
*For Sundays, there will be no scheduled courses but they may used for local sightseeing & outings.
Booking & Reservations:
To reserve your seat you need to pay 20% of the total fee as an advance which will be non-refundable and balance can be paid on arrival before you start your course.
We accept CAD/AUD/USD/EURO/POUND/INR currency.
Paypal and credit card payment will attract an additional 4% of banking charge.