Ayurveda Panchakarma Treatments in Rishikesh - Starlim India
There are several places you can avail of Ayurveda Panchakarma treatment in Rishikesh but we at Starlim India recommend only those ashrams that run a genuine and professionally managed Panchakarma treatment programme. The Ayurveda Panchakarma treatment in Rishikesh at Maa Yoga Ashram is run by registered and highly qualified Ayurveda doctors.
The Ayurveda Panchakarma treatment cleanses toxins from the body, strengthens immune system, reverses the negative effects of stress and brings in deep relaxation, increase longevity and brings in a sense of complete well-being. All the Panchakarma therapies are administered under the supervision of Ayurveda doctors and well trained personnel.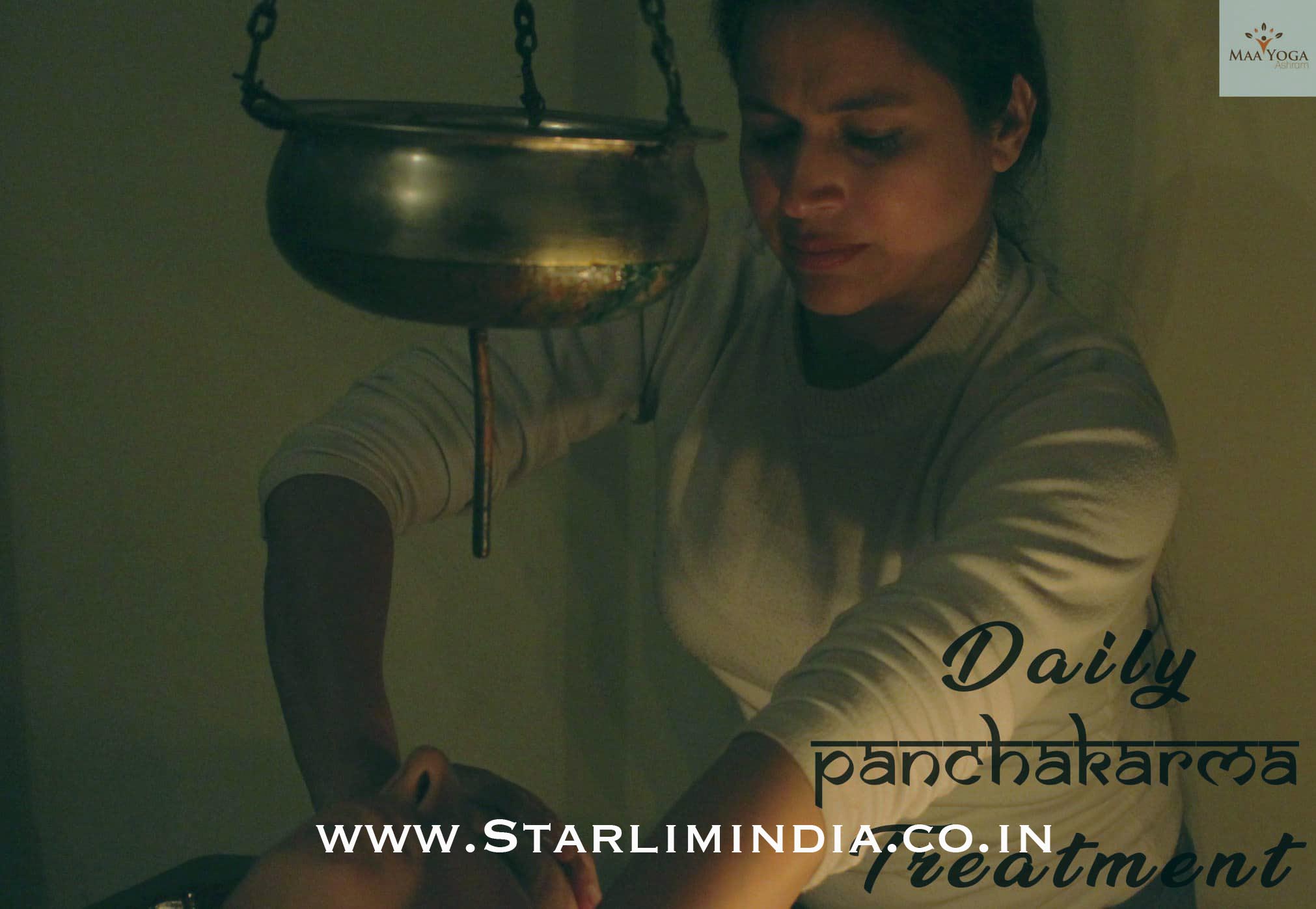 What is Ayurveda Panchakarma treatment?
Ayurveda is an ancient Indian healing system that uses five (panch) kinds of actions (karma) to help you achieve optimum health and longevity. Ayurveda Panchakarma lays emphasis on preventative and healing therapies as well as body purification and rejuvenation. Panchakarma forms an integral part of Ayurveda where the treatment includes detoxification, herbal massages and other therapies that keep a balance in body, mind and spirit. Ayurveda Panchakarma treatment does not just treat a sick body but it also offers a rejuvenation and relaxation programme to restore physical and mental well-being.
Ayurveda Panchakarma Treatment at Maa Yoga Ashram, Rishikesh
It is advised that you undertake Panchakarma treatment only after full consultation with a fully trained and qualified Ayurveda physician. The Ayurveda Panchakarma Treatment in Rishikesh at Maa Yoga Ashram also begins with a consultation with a qualified Ayurveda doctor. The specialised Ayurveda doctors in the first instance make a reading of your pulse for diagnosing your health. In the second instance they will make an observation of your movements to evaluate your health and it includes the examination of skin and eye colour as well as facial lines, tongue, nails, lips, hair and nose. Finally the doctor will ask questions about the symptoms and length of the suffering also assess your mental health.
Ayurveda Panchakarma Treatment for Rejuvenation
After the full consultation the Ayurveda doctor will tailor treatment procedures for you keeping your state of health in mind. Different types of Panchakarma treatment are carried out for different diseases; as for diseases of the stomach treatment will be different from those of the head or joints. However, what is common to all is that it involves the removal of deep seated toxins. Toxins accumulate in the body because of the busy lifestyle and the buildup of toxins weakens the body which damages health. Through Panchakarma treatment you can learn how to cleanse your body of toxins, restore your body and mind to its natural state of health and make positive lifestyle changes and learn about nutritious foods. Ayurveda Panchakarma treatment is effective and long lasting and can increase your energy, peace of mind and complete well-being.
Some of the list of panchakarma treatments are listed below:
Pristha Basti (Thorosic Treatment)
Shirodhara (Oil on Forehead)
Hridaya Basti (Treatment for Heart)
Sharir Abhayanga (Ayurvedic Massage)
Shastika Shali-pinda swedana (Milk-rice Massage)
Swedana (Steam Treatment)
Patra Pinda swedana (Heat with Leaves)
Udvartana (Powder Massage)
Vamana (Therapeutic Vomiting )
Virechana (Therapeutic Cleansing)
Kati Basti (Lumbar Spine Treatment)
Basti (Oil & Decoction Enema)
Griva Basti (Neck Treatment)
Nasyam (Nasal Drops Treatment)
Raktamokshana (Bloodletting Therapy)


Chronic Diseases for other Special Treatment
In Nature, there are various herbs which treat a wide range of diseases from the root level with no symptoms. All modern scientific parameters including every single present day examination are followed in the treatment.

1. Male/Female infertility problems
2. Allergic Bronchial Asthma (COPD)
3. Diabetes Mellitus
4. Allergy
5. Obesity (Spl. Weight Loss Prog.)
6. Heart Problems
7. Blood Pressure (Hypertension)
8. Joint Pains
9. Gynaecological Problems
10. Beauty and Age-related Problems
11. Acidity and Digestive Problems
12. Liver Problems (Cirrhosis of Liver etc.)
13. Psoriasis and Skin Problems
14. CRF (Chronic Renal Failure)
15. Migraine
16. Cancer (Malignancy)
17. Hair Problems
18. Blocked Arteries
19. Impotency/Sex Power
20. Paralysis
21. Renal Stones
22. Psychiatric Problems (OCD, Depression etc)
23. Piles (Haemorrhoids)
24. Deafness
25. Rejuvenation
26. Detox Treatment
27. De-addiction treatment for Alcohol, Drugs etc. & many more physical, mental & Spiritual Problems

We offer Ayurveda and panchakarma medicines, treatments and back rubs in Rishikesh under the direction of qualified and govt. recognised & registered Ayurveda specialists, doctors & therapists.