24x7 Priority Email Support
Samatva Yogalaya (Registered Yoga School: Rys 200, Rys 300, Rys 500)
Samatva Yogalaya - Rishikesh, a yoga school in India Registered with Yoga Alliance, offers affordable and residential yoga courses for beginners, inexpensive yoga retreats and residential yoga teacher training accreditation based on customary hatha yoga and hatha yoga in iyengar/ashtanga style with an attention on an alignment. Situated in the blessed city of Rishikesh (India), the goal of yoga and Samatva, a word got from the Bhagavad Gita (section 2 stanza 48). Yogalaya, then again, implies a place that houses (yoga + alaya). Along these lines, Samatva Yogalaya has a way to deal with instructing yoga that at last leads to harmony.
Samatva Yogalaya, under its authority organizer and instructor Krishna Sikhwal, is developing and building up itself as outstanding amongst other yoga schools in India by the goodness of its traditional teaching styles, small class measure (approx. 10~12 understudies in each group), customized regard for every candidate with more attention.
Courses Offered:
200, 300 & 500 hour residential yoga teacher training in Rishikesh The yoga courses are traditional hatha yoga and hatha yoga in iyengar/ashtanga style, with focus on alignment. Yoga teacher training here is an amalgamation of asana and other yoga practices like pranayama, meditation and also includes yoga history, philosophy and anatomy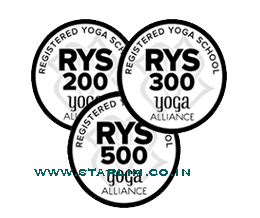 Yoga Teacher Training Course in Samatva Yogalaya, Rishikesh (2019)
Residential, affordable and intensive hatha yoga instructor training in India dependent on traditional hatha yoga and hatha yoga in iyengar/ashtanga style in 2019, registered with Yoga Alliance - USA, at yoga school Samatva Yogalaya connect with Starlim India - Rys 200, Rys 300, Rys 500.
200 Hour Yoga Teacher Training - Ryt 200 Certification
07 Jan 2019 to 02 Feb 2019
18 Mar 2019 to 13 Apr 2019
27 May 2019 to 22 Jun 2019
05 Aug 2019 to 31 Aug 2019
14 Oct 2019 to 09 Nov 2019
300 Hour Yoga Teacher Training - Ryt 500 Certification
04 Feb 2019 to 09 Mar 2019
15 Apr 2019 to 18 May 2019
24 Jun 2019 to 27 Jul 2019
02 Sep 2019 to 05 Oct 2019
11 Nov 2019 to 14 Dec 2019
500 Hour Yoga Teacher Training - Ryt 500 Certification
07 Jan 2019 to 09 Mar 2019
18 Mar 2019 to 18 May 2019
27 May 2019 to 27 Jul 2019
05 Aug 2019 to 05 Oct 2019
14 Oct 2019 to 14 Dec 2019